AMA Dance Force takes on League of Champions Dance Competition
The competitive dance world gets a bad wrap these days with unrealistic shows like Dance Moms and Abby's Ultimate Dance Competition. It paints this cutthroat, unforgiving world where winning is everything, and the only thing, that matters.
Let me set the record straight; dance competitions are NOT like Dance Moms. Most students aren't learning a new dance every week, most teachers aren't screaming insults at their dancers, and most parents don't start catfights over hair pieces. Unless Abby Lee Miller shows up, you can expect a dance competition to be a very friendly, high energy, fun place to be.
I grew up as a competitive dancer from the age of eight. I went to several different studios, with different approaches to competition, and that approach can make all the difference to your dancers. So, the best one I've come away with is to always strive for your own personal best. The competition experience should be a really fun way for dancers to gain more performance opportunities and push themselves to achieve their own highest level of technique and performance. Of course it feels great to win, but it's important to remember that that's ultimately not the point. So, what is?
What we're teaching to our competition team here at AMA, is that the point is to do your own best, perform better than you did yesterday, and strive to do even better tomorrow.
Earlier this month, AMA Dance Force's first competition team attended League of Champions National Dance Competition; their first ever!! We had five dancers perform in two routines; a small group jazz and a small group tap. The girls have been working hard learning choreography since December, for the jazz group, and only since January for the tap group; most competition teams start working in September! They rehearse every week and once all choreography is learned, we go through the routine and "clean," meaning we go through each movement and make sure every dancer is exactly in sync with the rest of the group. It was a lot of work in a fairly short amount of time, with extra rehearsals, costume fittings, and even hair and make-up practice, but we were ready come competition day.
Arriving at Pheasant Run Resort on competition day, you could feel the excitement and energy. It took a small army of our ADF moms, myself, Ann Marie, and even her daughters, Kendall and Jessie, to get our girls ready for the day, doing hair and make-up, stretching, and practicing our routines before it was our turn to perform in front of the judges and audience.
Getting ready in the dressing room!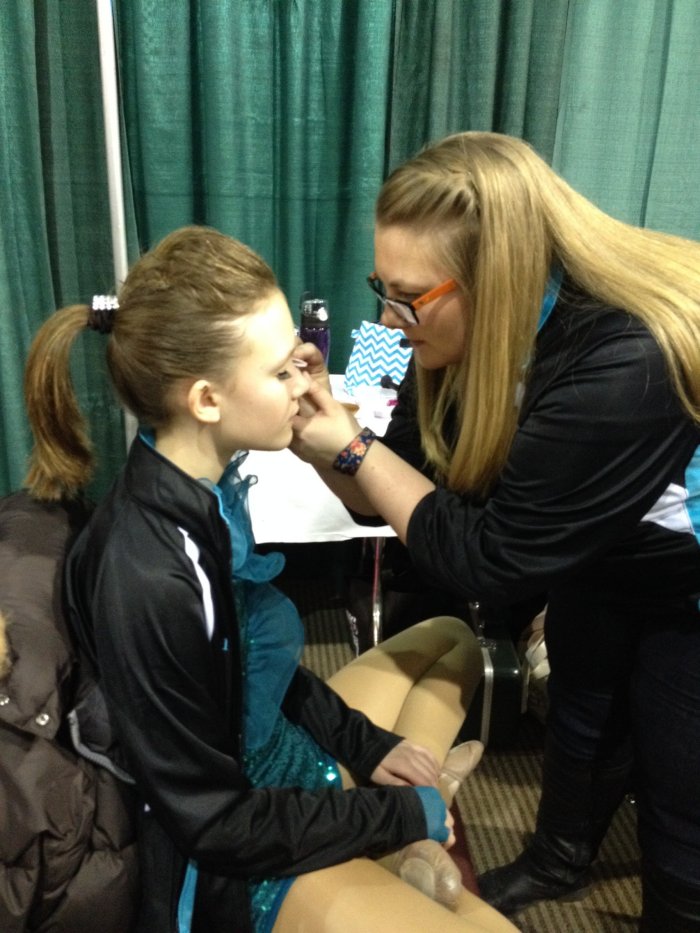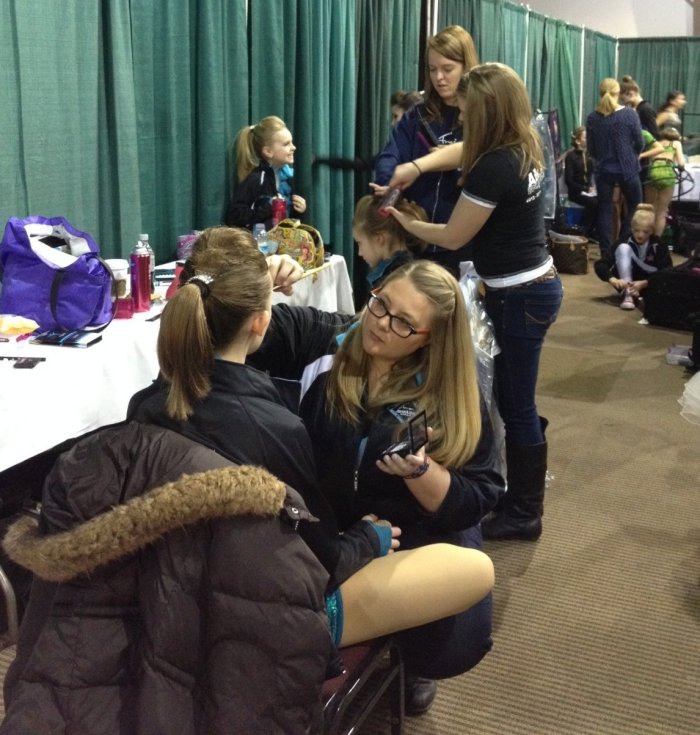 Kendall & Jessie Frank, in from college for Spring Break,
attend the competition to do hair for our team back stage!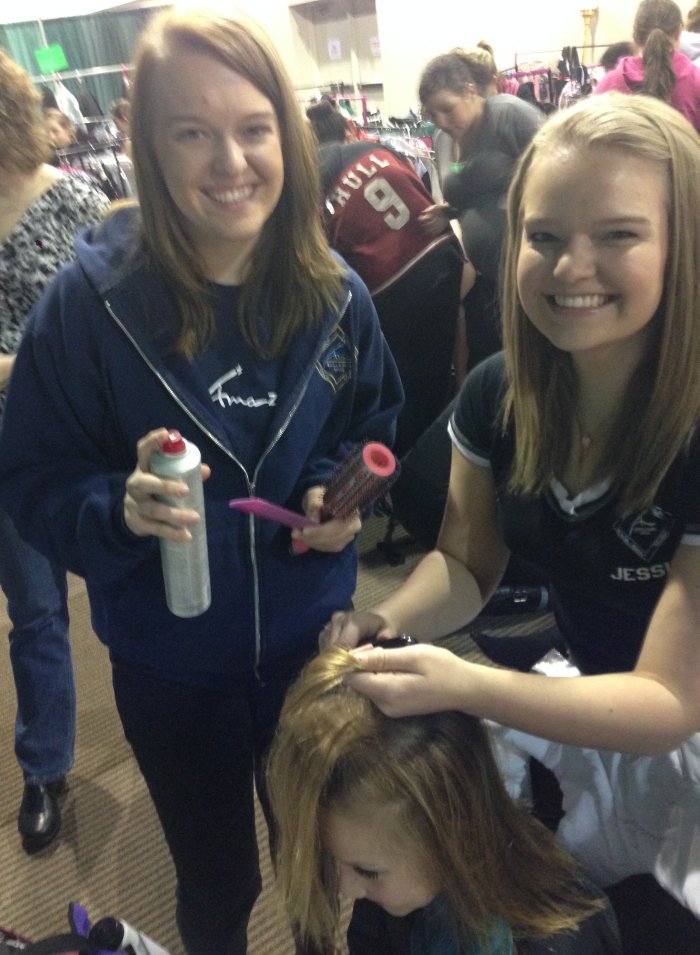 Kendall, Jessie and Miss Ann Marie getting the girls ready!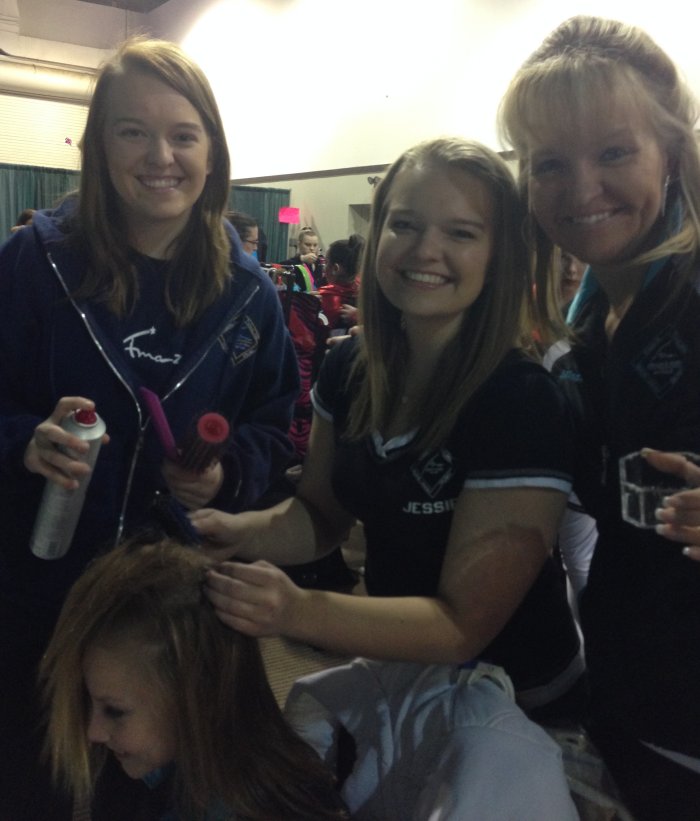 Practicing backstage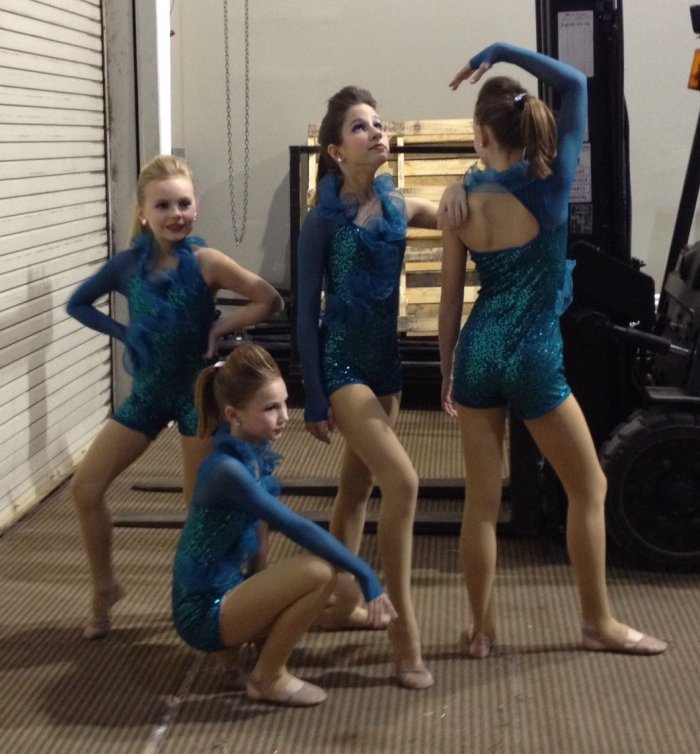 Miss Kimmy presenting a small gift to each of the girls on our team
(rhinestone earrings) before they go on stage!
Their hard work, dedication and practice will pay off shortly!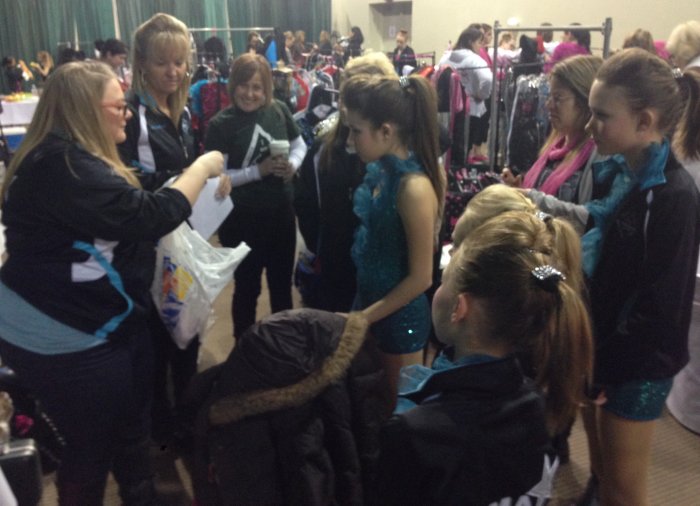 Jazz group "Wings" getting ready to take the stage!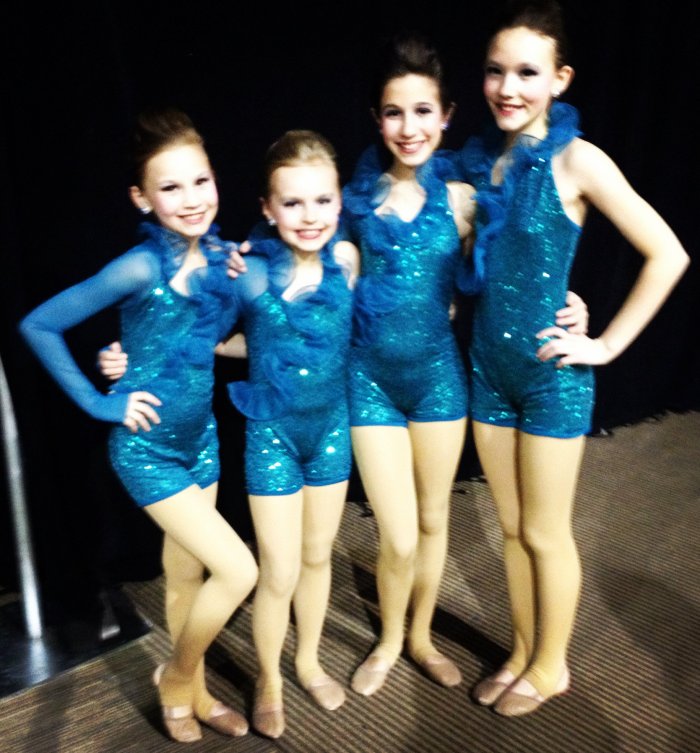 When the time came, our girls went on stage with energy, enthusiasm, and smiles, and put on great performances in both their routines. After performing, we had just a short wait for the awards ceremony.
Michelle and Karissa accepting both groups' High Score awards!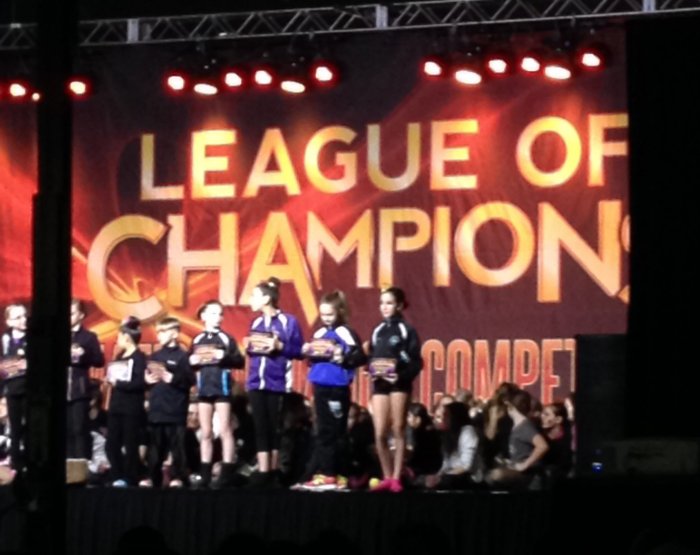 Dance competition awards can be confusing, so I'll attempt to explain. Based on your total score from the judges, every routine receives an award based on the point scale; at this competition, Platinum is the highest, followed by High Gold, then Gold (the new version of Gold, Silver, and Bronze). After this, they present the "High Point" awards, which is basically a ranking of routines based on score, which is basically where it's determined whether or not you "win." They also present other "Special Awards," which the judges give out to specific routines based on something special they saw.
(L to R) Michelle, Val, Miss Kimmy, Julia, Adriana, and Karissa
with all of their awards!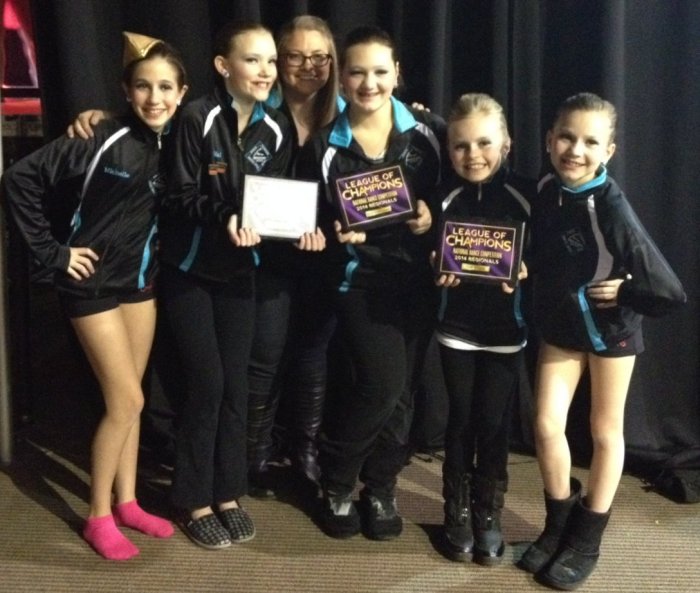 Our dancers onstage at the awards ceremony!

Our AMA Dance Force girls did great!! Both routines earned a High Gold award based on their score, our jazz routine "Wings" won 8th Place Overall for the Junior Small Groups in our division, as well as a Special "Rising Stars" Award from the judges, and our tap routine "Boogie Woogie Bugle Boy" won 7th Place Overall for the Junior Small Groups in our division.
Miss Ann Marie with her "Boogie Woogie Bugle Boy" tap group!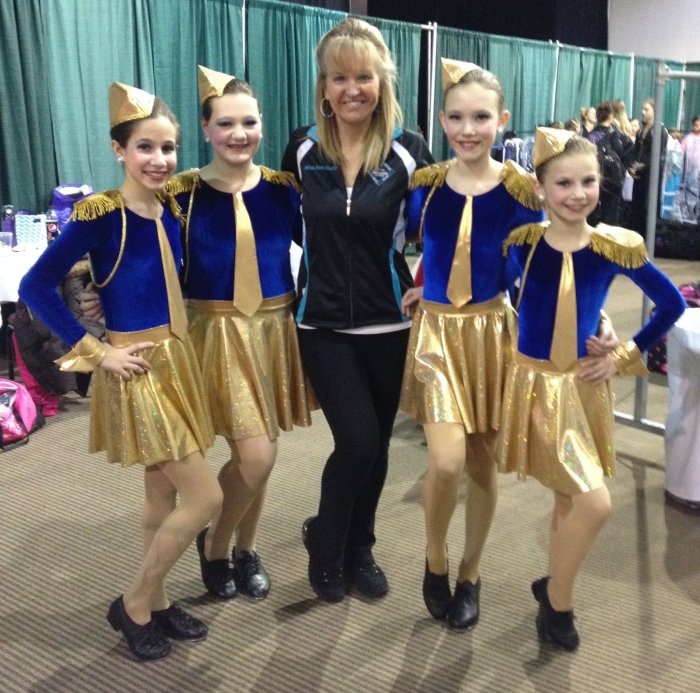 Boogie Woogie Bugle Boy girls!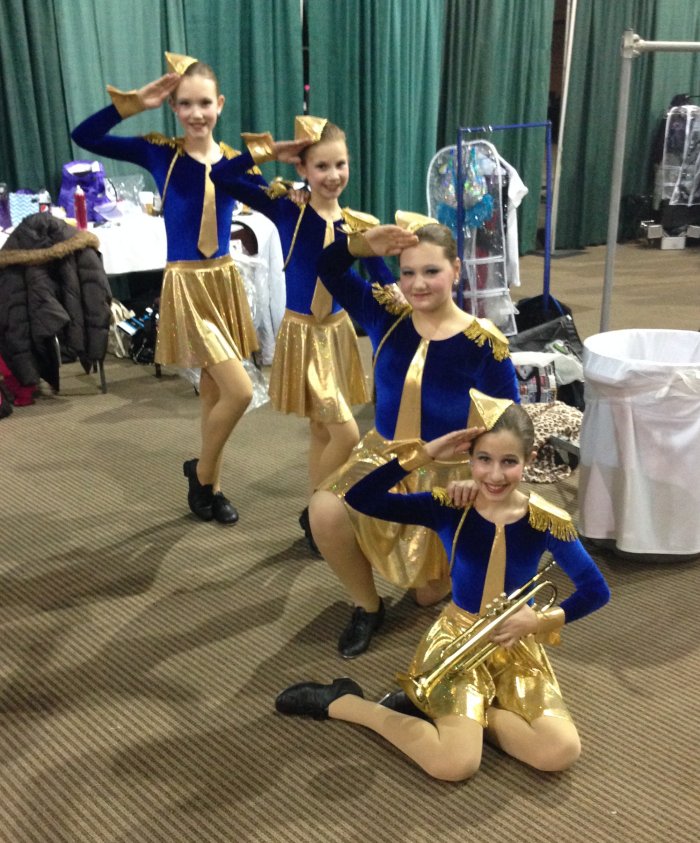 Ann Marie and I couldn't be prouder of all of their hard work and their accomplishments at their first competition!! The ADF Competition Team will be attending another competition in May, so, until then, the work continues, striving to improve every day, have fun, and give an even better performance our next time around at competition. Because that is where the satisfaction comes in for a competitive dancer.
Take it from my personal experience; several years from now, our dancers won't remember what place they came in or what color medal they received. They will remember that they loved being on stage, giving a great performance, and having fun!
---
Are you ready to enroll your child at a dance school that focuses on learning in a positive, supportive, and FUN environment? Learn more about our dance classes here.