Tumbling & Aerial Acrobatics
We are pleased to offer a variety of tumbling levels in our curriculum. From cartwheels to back handsprings, you will be exposed to all the basics, then move on to the more difficult tricks.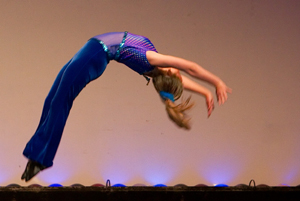 "My son absolutely LOVES his tumbling class… Everyone at AMA is so patient and kind… but most importantly, you can tell that they absolutely love working with kids. I can't wait to see the AMA show in June… I have heard the past shows were AMAzing!" – Kelly
Tumbling Levels
Tumbling adds athleticism and gravity-defying elements to your performer's skills. Focusing on acrobatic elements such as cartwheels, bridges and walkovers up to back handsprings, back tucks and aerials, tumbling develops flexibility and strength where your performer will learn discipline and to take risks in a safe environment. Sequence and connection of movements is started at our most basic level and worked on through to our advanced students!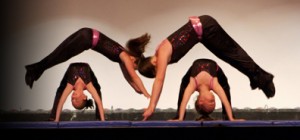 Beginning "Mini" classes:  This fabulously fun class introduces your child to the basics of tumbling. Through strength-building technique such as obstacle courses and exercises, it gives your child the foundation to build stronger skills in the next level. Your tumbler will work on tricks such as forward rolls, straddle rolls, bridges and cartwheels!
Intermediate "Technique I" classes: This awesome class is the next step in your tumblers journey! Class focuses on acrobatic elements such as forward/backward rolls, handstands, cartwheels, bridges and walkovers. We will build upon skills learned and mastered with a specific focus on fluidity in movement and adding in variations to forward and backward rolls, standing back bends, handstands, back walkovers, cartwheels, and round-offs!
Advanced level classes: This amazing class is for our most dedicated tumblers. Having mastered the basics of tumbling, this class focuses on acrobatic elements such as fluidity in walkovers, back handsprings and handstands up to back tucks, aerials walking on your hands!
All classes will include flexibility and conditioning training tailored to the level of experience and skill.
Online Enrollment
Enrolling in Studio Director for AMA Classes is easy! Simply click here. Next, create an account with your information, choose "Virtual AMA 2020" or "2020-2021" and register for class(es). Finally, pay online and you're all set! 
After clicking a link below, you'll be taken to our Login & Registration site. Having an account gives you access to AMA events, programs and more! If you've already registered with AMA, then you only need to log-in. If not, no problem! Simply select to register and follow the prompts. That's it!
If you have questions or need some help, feel free to contact us:
847.299.2233
[email protected]
Quick Registration
Fill out the quick enroll form below and we will contact you to finish your enrollment!
---