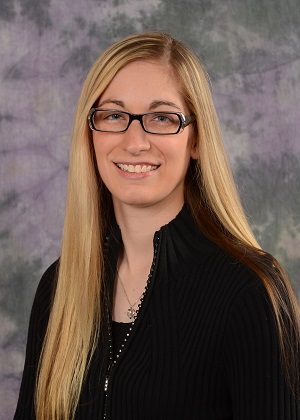 We would like to introduce Miss Amy Capps!
Miss Amy has been with AMA for eight years! She has been a dancer with us for all eight years and this is her fourth year as one of our dance instructors, working with some of our basic and intermediate tap students! Miss Amy grew up right here in Des Plaines, just like many of our AMA students!
Family: Miss Amy married her husband, Kevin, in 2011 and they live just minutes from AMA in Des Plaines. She is close with her family, who have all been involved in making any dance recital that Miss Amy has been part of a success. Her younger sister, Sara, has done some fantastic photography, capturing some great action shots on stage, and her parents helped out by by building props, volunteering backstage, and sewing costumes when she was growing up!
★ Favorite color: Blue
★ Favorite food: Cheese!
★ Favorite movie: "Best In Show"
★ Favorite Disney Character: Eeyore, from Winnie the Pooh
★ Favorite TV Show: Friends!
Fun Fact: During the day, Miss Amy teaches high school science!
Favorite Dance Memory: Miss Amy's favorite dance memory was tapping to Coming to America with the wood suitcases her dad made in 3rd grade!
Favorite Part of Teaching: Amy says, "I love the expressions of joy on a student's face when they master a step for the first time!"
Miss Amy puts tons of fun and excitement into all of her classes. We love having her here as part of our AMA family! You are AMAZING, Miss Amy!
Don't miss out on your chance to tap with Miss Amy this fall! Register today!
★ Basic Tap II (9-12): Wednesdays, 6:00-6:45pm
★ Intermediate Tap (11+)*: Tuesdays, 5:10-5:55pm
* Staff Recommendation Required
Stop on by Miss Amy's bio to learn more about her background and expertise.
Give us a call today at 847-299-2233 to register! You can also sign-up for classes through our website.