Ann Marie Frank, AMA Creator & Director
Ann Marie Frank has been working non-stop for years building an environment where students not only learn the arts and life-long skills, but are always made to feel welcome as they step through the doors of AMA. Her lifelong love of the arts is richly based in music and dance.
Having studied music and primary education at Northeastern University, Ms. Frank learned all instrumentation applications and also studied trombone and piano privately for over 12 years. She studied dance at Lou Conte's Dance Studio in Chicago, home of the Hubbard Street Dancers, and with numerous professionals such as Ruth Page and tap legends, Ben Ofer, Avi Miller, Gregg Russell, Jimmy Payne, Tommy Sutton, and Bruce Stegman.
Continued study is the mark of a true artist and Miss Ann Marie has participated in hundreds of dance workshops over the years. Most recently, she has traveled to Los Angeles, Scottsdale, New York, Orlando and Vancouver to learn from the best dance masters in the industry. "I want to be able to expose our AMA students to everything dance has to offer," she says. "It is very important to me to be able to bring the latest styles of dance being taught all over the country to our AMA students!"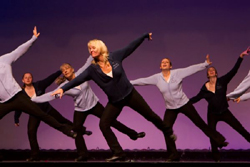 Ann Marie has taught dance for over 25 years in the Park Ridge and Des Plaines communities, and is well known for her energetic style (video), original choreography and contagious excitement. She attributes her current success in part to attitude, greeting every new AMA season with unshakable enthusiasm and optimism.
Passionate about the performing arts, AMA began offering private music lessons in 2008. Miss Ann Marie's dream is to create a performing arts school where children and adults can come together, grow and excel in a nurturing cultural environment.
Planting flowers in her front yard every summer and traveling to warm climates are some of the things Ann Marie loves to do outside of AMA. She also loves to play Scrabble and see every Broadway musical possible with her kids!
Ryanne Abraham – Dance Instructor
Ryanne Abraham has been dancing for 22 years with a background that consists of ballet, jazz, hip hop, lyrical, contemporary and competitive dance. Through her childhood and adolescent years, Ryanne trained at Susan's School of Dance taking regular classes as well as competing with their studio team for 7 years. Her studio excelled in the competitive circuit winning numerous overall high scores, platinum and double platinum awards and scholarship offers. Ryanne also competed on Munster High School's JV and Varsity dance team for 4 years. Their team went on to win multiple IHSDTA State Championships in the JV category as well as consistently placing in the top 3 in the elite category during her Varsity years. She attended Iowa State University earning a Bachelors of Science in Journalism and Mass Communications with a minor in Performing Arts. She served as a member and officer of the Orchesis II Dance Company for 4 years and really began to find her passion for instruction and choreography during her years with the company. She has also acted as a stand-in coach and audition judge for Immaculate Conception's Lady Knight Dance Team, an elite high school team her sister and close friend coached for 5 years. In addition to performing in the jazzy Christmas spectacular, Nuts & Bolts with Joel Hall Dance Company in 1998 and working as a summer intern with River North Dance Chicago in 2013, she is so grateful for the many incredible opportunities to remain active in the dance community including her recent experience developing a passion for adjudication at team auditions and mock competitions. Ryanne is currently a member of the performance company, MaZi Dance Chicago, and continues to train at various studios across Chicago including Visceral Dance Center and Lou Conte Dance Studio.
Kimmy Ehlke, Performance Team Co-Director
Kimmy is a native of Michigan, growing up in Detroit's northwest suburbs. She began her dance training at the age of three, following in her big sister's footsteps.
Throughout elementary, middle, and high school, Kimmy trained at some of Metro Detroit's premier dance studios, studying ballet, tap, jazz, lyrical, contemporary, musical theater, pointe, and hip hop, and was also part of her high school's four-time State Champion Varsity dance team. She was part of several award winning competition companies and had the opportunity to train with many of the dance industry's top choreographers, including two years with Sonya Tayeh, choreographer on So You Think You Can Dance. Through this, she was fortunate to have some amazing performance opportunities, such as half time shows for the Detroit Pistons and opening for Jeff Daniels' TV-movie premier of The Goodbye Girl at the Purple Rose Theater. She was also given the opportunity to begin teaching dance classes for younger students and was hired to choreograph dance routines for local youth cheer teams.
After high school, Kimmy attended Central Michigan University where she studied Entrepreneurship, Dance, and Leadership. She continued her training through the dance program and as a member and President of Infusion Dance Team @ CMU, gaining a better understanding and knowledge of dance in all of its forms, focusing more on choreography, rhythm, and movement. Miss Kimmy continued teaching dance classes at local dance studios and was hired to choreograph competition routines for her former high school's JV and Varsity dance teams.
Miss Kimmy's love and passion for dance continues to grow every day and she is fulfilling her dream by sharing this with her students! She hopes to help her students learn, grow, and find their confidence through a fun dance experience! Kimmy is so happy to be part of the AMA family and can't wait to see what this year brings! (Check out one of Kimmy's dance classes!)
Kimmy likes hanging out with friends, reading, watching movies, eating mashed potatoes, buying anything purple and/or sparkly, watching dance videos on YouTube, and, of course, enjoys dancing with her AMA students!!
Jessie Frank, Tumbling & Dance Instructor
Jessie has been with AMA since the day the studio opened in 2005!  She has taken classes in all genres the studio offers, including ballet, pointe, lyrical, jazz, hip hop, tap and tumbling.  Miss Jessie's favorite part about growing up at AMA was becoming a teacher's assistant, which helped her gain the skills needed to become a lead teacher in tumbling and combo classes!
Jessie graduated from Illinois State University in May of 2017 with a major in Management and Entrepreneurship, and a minor in Children Studies.  She loves working with children, but also loves working doing the behind-the-scenes work in the office.
While in college, Jessie was a member of the Gamma Phi Circus though Illinois State, which is the oldest collegiate acrobatic circus in the nation!  She has become proficient in numerous circus arts, including Lyra Hoop, Multi and Dance Trapeze, Silks, Spanish Webs, German Wheel and Bike Build for Ten!  One day, Jessie hopes to bring the circus arts into AMA's curriculum!
In addition to being a member of the Gamma Phi Circus, Jessie spent her four years of college involved in a student-run dance team to continue dancing while away at school.  It was so fun for her to continue dancing recreationally while away at school, choreographing dances for her fellow teammates and also helping manage the team as a member of the executive board.  One of the most influential decisions Jessie made at ISU was volunteering with the Alternative Break's program.  She spent all of her school breaks volunteering throughout the U.S. and Central America, which helped her find her passion of a variety of social issues, including equal opportunity, education, poverty and hunger, and the environment.
After 4 years of being away at college, Jessie is so happy to be back in both the classroom and in the office! She has missed her fAMAly greatly, and is so happy to be welcomed back with open arms by Miss Ann Marie and the rest of the AMA family!
Christina Gale, Dance Instructor
Bio Coming Soon!
Ashley Guest, Dance Instructor
Bio Coming Soon!
Shelby Moran – Dance Instructor
Shelby Moran began her early training at Bataille Academie of the Danse and continued at Dance Center Evanston under the direction of Béa Rashid. During her early education,
Shelby had the opportunity to perform with the Evanston Dance Ensemble and Elements Contemporary Ballet.
Shelby continued her dance education at The Juilliard School (BFA '15). While at Juilliard, she performed repertory such as Jose Limon's Missa Brevis; William Forsythe's One Flat Thing, reproduced; Twyla Tharp's Baker's Dozen; and Merce Cunningham's Biped. She also performed original works by Monica Bill Barnes, Emery LeCrone, Darrell Grand Moultrie, Larry Keigwin, and Danielle Agami. She also participated in summer programs including the Contemporary Program at Jacob's Pillow in 2014, Hubbard Street Dance Chicago in 2009 and 2012, and Complexions Contemporary Ballet in 2010.
Shelby began her professional career performing with Thodos Dance Chicago for two seasons. In her time there, she had the opportunity to dance starring roles in director Melissa Thodos' original story ballets including "Anne Sullivan" in A Light in the Dark and "Sono, the Matriarch" in Sono's Journey. In addition, she performed world premieres by Robyn Mineko Williams, Brian Enos, and Kevin Iega Jeff. She also had the opportunity to perform as a soloist in renowned repertory such as Bella Lewitzky's Nos Duraturi and Melissa Thodos' original role in her Wheel Trilogy.
Miss Shelby is entering her first season dancing with Visceral Dance Chicago. She is excited to be amongst such inspiring artists! 
Sandy Schillinger, Office Staff
Miss Sandy earned her Bachelor's Degree in Elementary Education from Concordia College in 1986. She has taught both primary grades and early childhood for 9 years. Miss Sandy's extensive background in teaching children, along with her 8 years of directorial experience has made her a valuable addition to the AMA support staff!
Sandy was born and raised in Chicago and has lived in Des Plaines since 1991 with her husband and two children. She has been a cheer coach for 15 years!
Even though she spends only one day in the AMA office, Miss Sandy has spent many days at the studio, with her daughter being an AMA alumni and Sandy continuing to take Adult Tap class with Miss Ann Marie!
In her spare time Sandy likes to read, garden, and spend time with family and friends.
Annie Schrieffer, Office Manager

Ms. Annie has worked in the corporate field for over 30 years.  Her entire career has been spent in the legal field at major national and global law firms.  She comes to AMA as a highly organized and analytical person, skills that will make her a great addition to the AMA Team.
Annie was born and raised in Chicago and still lives there today with her husband.  She has been a student at AMA for several years and is an AMA Dance Force Alumni.  She still takes classes at AMA and when not dancing, Annie enjoys travelling and spending time with family and friends.
Timothy Tsang, Dance Instructor

Mr. Tim is a dancer, teacher, choreographer, and arts administrator. He began his dance training in 2009 at The One Dance Studio in Shanghai, taking classes in hip hop, popping, locking, and waacking. Tim was first introduced to modern and ballet at Columbia College Chicago, where he earned his BA ('17) in dance, and minor in arts administration. During college, he performed in original works by Paige Cunningham-Calderella, Bob Eisen, and Stephanie Paul, as well as repertory of Merce Cunningham. In 2016, Tim was also commissioned by Columbia to choreograph for their Open House, and restaged twice. Tim began performing professionally with Ardent Dance Company the same year. Since graduating, Tim has presented works in collaboration with Krista Zozulia around Chicago, which most recently featured at Links Hall's THAW 2018. In addition to being part of DCE, Tim currently performs with Mordine & Co. Dance Theatre, and serves as an assistant to Artistic Director with Cerqua Rivera Dance Theatre.
Jessica Walker, Piano Instructor
Jessica Walker has her AFA-Music and Certificate in Piano Pedagogy. She is a member of the National Music Teachers' Association, Illinois Music Teachers' Association, North Shore Music Teachers' Association, and Northwest Suburban Music Teachers' Association. She is a faculty member at Concordia University-Chicago and teaches in the Piano Community and Preparatory Program.  Jessica is a former member of the internationally acclaimed Oakton Six Piano Ensemble and has studied privately under conductor and professor, Glenna Sprague.  She has also studied with Julliard alumna Maria Honigschnabel.

 

Jessica has enjoyed performing in the locally televised Wilmette Young Artists' Concerts, Sonatina/Sonata Festivals, and Concordia Honors and Departmental Recitals. She has played in churches, high school and college jazz bands, and accompanied the students of Chippewa Middle School, Maine West High School, and local home-schooled students at several solo and ensemble contests.  

Recently, Jessica has had the privilege of attending the workshops of world renowned composers and pedagogues Randall Faber and Philip Keveren.  She also was honored to play piano for her friends' wedding!




In addition to studying piano for over 16 years, Jessica has learned to play many other instruments, including the guitar, ukulele, clarinet, and flute. She also enjoys composing. Jessica has been teaching piano for over a decade and it is her passion. "There is nothing more fulfilling than to take what I have learned and be able to share it with others," says Miss Jessica. She excels in making lessons a fun learning experience for her students, and she loves teaching at AMA!

Aside from teaching, Jessica loves spending time in downtown Chicago, photography, and shopping!