"At what age can my child begin music lessons at AMA?
My son is 2½ and loves music!"
AMA Dance & Music School is proud to offer the hottest new music program for:
toddlers (18-36 months)
preschoolers (3-5 year-olds)
the young child (6 & 7-year-olds)
Our Music FunTime program will teach your child to count, play instruments, recognize the sound of each instrument, learn to identify notes and their value… and that's just the beginning!
If your young child shows an interest in music by banging on pots and pans, dancing or singing every time they hear music, swaying and even bobbing their head to music… then Music FunTime is the PERFECT music program for your young musician!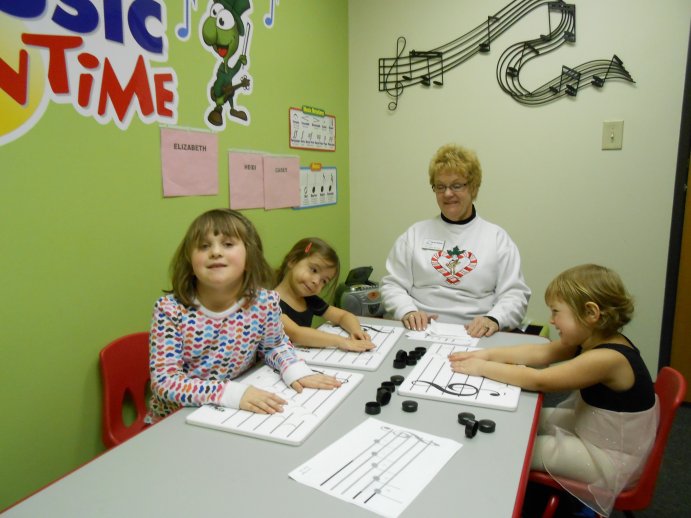 Our Music FunTime classes are overwhelmingly popular! We currently have 20+ Music FunTime students at AMA and we are growing each week! Our families have been spreading the word to their friends above this extraordinary program.
In this economy, we need to be very selective when choosing our children's music activities. We need quality! I traveled all over the country last year researching a dozen preschool music programs, observing classes, reading curriculums (if one was available) and testing the learning materials. Without question, Music FunTime is the most structured, engaging and educational… and the kids had the most fun in this class!
This STRUCTURED small group class (not to exceed 5 students) is truly AMAzing! This is not a play group, but an actual class with a thoroughly tested curriculum specifically for the young child.
If children can learn their colors and numbers at an early age, there is no reason they can't learn to read music and play instruments.
How do we do this? Through hands-on materials that kids can bring home to practice with and KEEP. You will get a bag filled with instruments, tools, AND audio CDs you can play in your car to practice with. In class, we use flashcards, games such as matching and puzzles for memorization development, and theory-related hopscotch and crafts to always keep your child's interest, all the while stimulating your child's mind and developing their motor skills.
Every Student Can Be a Rock Star!
In addition to all that, at the end of each lesson, students are rewarded by participating in a "rock band" type performance, with a full drum set, piano and guitars! This gives our students the opportunity to show off the skills learned during the class, building some AMAzing self-confidence!
Does this program sound like it is for YOUR family? We bet it is!
Even though we have some students taking private lessons at age 4, others are just not ready yet. This is the perfect way to prepare them for those private lessons in the future!
Music FunTime lessons run all year round and we can accept your child into the program when it is convenient for YOU! Learn more by visiting our Music FunTime page, or call our office at 847-299-2233 to speak with AMA staff.